How do you know how to hire an electrical contractor for the first time? What questions do you ask? Where to begin? Here are some tips to finding a quality and reputable electrical company to do your electrical updates or new wiring.
1. Is the contractor licensed?
To do electrical work in Minnesota, contractors need to be licensed by the State Board of Electricity. If a contractor does not have an electrical license, they are not permitted to do electrical work in the state. You can contact the Department of Labor and Industry at (651) 284-5069 or 1-800-342-5354 to verify the electrical contractor is currently licensed and to find out if they have a disciplinary history. Our license number is EA002700. Our license information can be found by visiting https://secure.doli.state.mn.us/lookup/licensing.aspx and entering EA002700 into the search bar.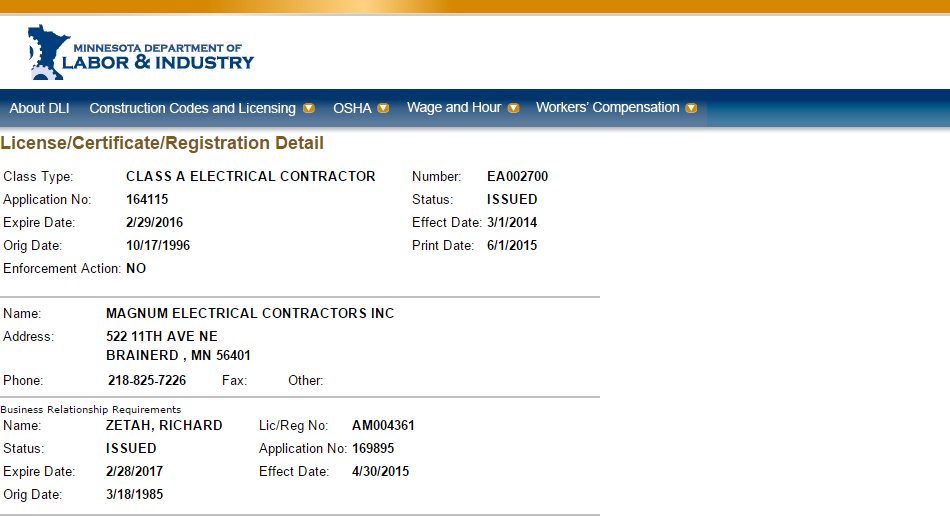 2. Is the contractor insured?
If anything goes wrong, does the contractor have the insurance to back them up? Do they have adequate coverage in case the contractor causes damage to your property, or if someone is injured on your property? You'll want to make sure you're protected from any potential financial losses. See the Minnesota Statutes for more specific information.
3. Is the contractor bonded?
What if the contractor fails to complete a job or doesn't pay for permits? Will you be reimbursed for poor workmanship or non-performance? Ensure to only hire an electrical contractor who is bonded.
4. How long and where has the contractor been in business?
Stick with electrical contractors who have been in business for a while and don't move around a lot. We have provided quality electrical work to the Brainerd Lakes area for over 30 years.
5. Does the contractor have references?
Ask for references. Check with former customers to see if they were satisfied with the work.
---
Dangers of Hiring an Unlicensed Electrical Contractor
Likely also uninsured. An uninsured contractor does not have a way of reimbursing you if they cause damage to your property. You will pay the cost. Likewise, you will also be responsible if the uninsured contractor causes injury or damage to someone else's property.
Lack of coverage under homeowner's policy. Home insurance policies typically require any work done to the home to be done by licensed contractors. In addition to your property being damaged, you could also be responsible for medical bills if the unreputable contractor is injured on your property.
Noncompliance with building codes. Most electrical projects require permits. Unlicensed contractors are unable to obtain permits and are often unfamiliar with electrical codes. If your project isn't permitted or lacks compliance with electrical codes, you will probably be required to remove or repair the job. Even if you are not caught, you will inevitably have to correct it if you ever sell your house.
Poor quality work. Not all unlicensed contractors do poor quality work. However, if shoddy work is to be done, it is usually done by unlicensed contractors. Unlicensed contractors are not subject to meeting certain standards. As a result, they are often less experienced, untrained, or unqualified.
Limited legal recourse. If you have a dispute with a licensed contractor, you can call the licensing agency. The Minnesota Department of Labor and Industry maintains a Contractor Recovery Fund to help consumers recover losses caused by licensed contractors. At the very least, the Minnesota Department of Labor and Industry has the authority to suspend or revoke a dishonest contractor's license. While this does not necessarily ensure a contractor will comply, they will have more of an incentive to do so. Unfortunately, the Minnesota Department of Labor and Industry is unable to take this sort of action against unlicensed contractors. You may find the only recourse you have is a civil lawsuit. On top of that, with many unlicensed contractors going in and out of business quickly, you may find that a lawsuit is a waste of time.
---
 Warning Signs
When evaluating potential contractors, it is essential to be diligent in screening. Here are some red flags to watch out for:
Unsolicited visits or phone calls. Some reputable contractors market their services this way. However, this tactic is more commonly used by con artists. Do not fall for a contractor who offers you a "bargain price." A common story a disreputable contractor may claim is that they are doing a job in the neighborhood and have leftover materials.
High-pressure scare tactics or sales pitches. Don't fall for special "today-only" deals or warnings that some defect you have is a safety hazard. Dishonest contractors will prey on their victims' fears that something bad will happen otherwise.
Large down payments. Be skeptical if the contractor asks for a high upfront deposit. Anything more than 1/3 the total amount is unreasonable.
Lack of contact information. Disreputable contractors can be very hard to track down. Be careful when they only give you a post office box with no street address.
No price. If a contractor is unable to provide you with a bid before beginning work on a project or avoids the issue of cost, you might get taken advantage of.
No written contract. Always get the terms of the project in writing. The contract should include a description of the work done, timetable, labor cost, completion date, materials used, financing agreements, etc. The contractor's license number should be included, and the contract should specify how overruns on cost will be taken care of.
Unmarked vehicle. Be cautious if the contractor pulls up in a van or truck with no advertising on it.
The Minnesota Department of Labor and Industry's guide to hiring a residential contractor also contains useful information.